UNDERSTANDING BALDNESS:
Baldness, also known as Alopecia, is caused due to loss of hair. This mainly affects male members commonly called male pattern baldness. In this condition patch of scalp becomes devoid of any hair growth. The receding hairline leaves the person shattered, his self-esteem takes a beating.
Baldness was considered to be related to aging & genes but the worrisome fact is that nowadays young people are facing this problem in great numbers. This leaves a traumatic impact on young people as their self confidence dwindles, their appearance changes drastically.
5 REASONS THAT LEAD TO BALDING:
Heredity/genetic reasons: This is one of the primary reason of balding, affecting a large number of male population.

Nutritional deficiencies: Of all hair fall reasons, imbalance in diet has been seen to leave a great impact on the health of the follicles.

Illnesses/surgery: Serious illnesses, surgeries, hormonal imbalances affect overall health of the hair.

Styling/heat treatments: Styling gadgets and procedures are harsh on the hair & one of the hair fall reasons in modern times, therefore should be avoided as much as possible.

Stress/faulty lifestyle: The young generation should ponder over their lifestyle & make positive changes. Stress control & proper sleep should be incorporated by all.
5 WAYS ON HOW TO REDUCE HAIR FALL: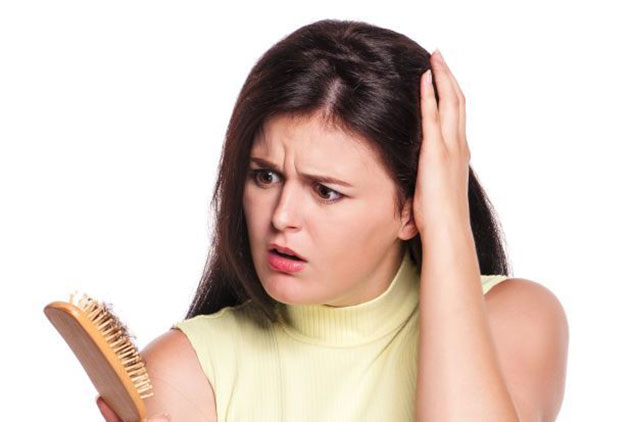 A rich balanced diet- Your diet should fulfill all supplements like vitamins, proteins, iron, zinc, etc.

Avoidance of chemicals/harsh treatments- Treatments like straightening, smoothening use heat which makes the hair brittle.

Use of healthy, natural products to nourish the hair- Chemicals should be avoided so be particularly cautious while buying hair care products.

Lead a healthy life- A healthy lifestyle, stress free life & regular sleep cycle will surely be beneficial.

Keep yourself well hydrated- lots of fluid intakes is needed as the follicles need to retain moisture for good health.
2 WAYS TO COUNTER BALDNESS:
Firstly the scalp testing needs to be done to determine the reasons for balding. After a scientific analysis, if the follicles are found to be dormant or damaged, the expert will advise on how to reduce hair fall & regain growth. Laser therapy may work well in such cases.

If the follicles are found to be severely damaged or miniaturized then medical treatment has to be taken. The permanent hair replacement procedure may help in this.

There are two techniques to implant hair.

FUE (Follicular Unit Extraction)- Through this technique units are implanted in the balding area, works well for small patches.

FUT (Follicular unit Transplantation)- In this technique a piece of suitable scalp skin is cut out and follicles planted at the place of balding. This method gives a higher yield & satisfaction.
WHY ADVANCED HAIR STUDIO & NOWHERE ELSE:
We are one of the oldest hair care providers with a rich experience of 45 years

We hire the best talents of the industry

We upgrade our knowledge & technique regularly

We constantly develop all new and most advanced researches & incorporate it in our treatments

We guarantee the most competitive price as well as result
INVEST IN YOUR HAIR AS YOU WEAR IT EVERYDAY!
VISIT US AT ADVANCED HAIR STUDIO &
GET GORGEOUS HAIR !